Prince Harry and Meghan Markle's Royal wedding was surely one of the celeb highlights in both United Kingdom and the world, where only 600 guests got the exclusive invitation to St. George's Chapel in May 2018. Many of the guests turned heads as they arrived at the venue, with both royals and renowned socialites joining the happy couple for their special day. How do they compare to themselves with the guests of Prince William and Kate Middleton's wedding seven years ago? Who sported the best hairstyle? Did they even go to a styling specialist to prepare? Who stole the show? Let's go through the most famous guests we've seen and see what they opted for!
Kate Middleton & Meghan Markle – The Rings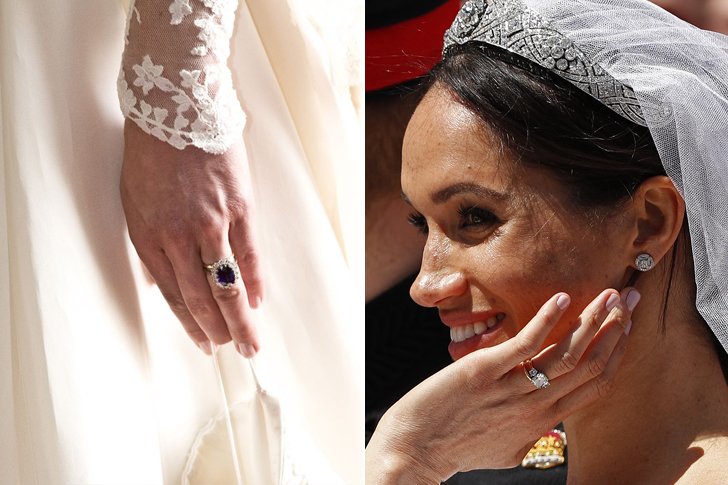 As loving sons, both Prince William and Prince Harry wanted their mother to be included in the lives of their new wives and they did it in a most loving way possible – both Kate and Meghan were given pieces of jewelry from their late mother-in-law's collection. The ring of Kate is Princess Diana's engagement ring made of sapphire. When Prince Harry proposed to Meghan Markle, he had a ring custom-made, including two diamonds that belonged to Princess Diana and a stone from Botswana, which experts have estimated to be worth $350K.
Kate Middleton, Meghan Markle – The Regal Wave To The Well-Wishers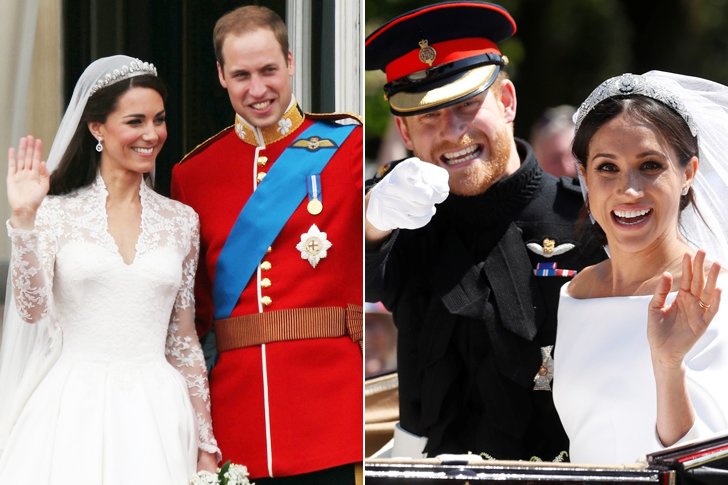 There was always a slight query in the atmosphere about this regal wave of newly-married royal couples. What is the intention behind it? According to the protocol, it is a sign of gratitude, a silent "thank you" to the people who've attended the ceremony outside the gates. Kate Middleton followed the protocol and waved standing on the balcony of Buckingham Palace. Meghan didn't get her royal wave on the renowned balcony, but greeted the people around Windsor through a long carriage ride, with a smile as bright and white as her dress.
Kate Middleton, Meghan Markle – The Walk Down The Aisle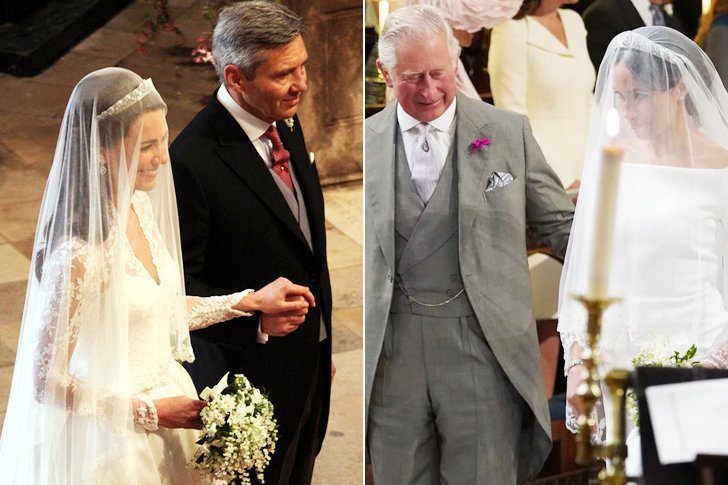 A girl's dream is to wear a wedding gown, holding her bouquet as she walks down the aisle to meet her groom. For Kate Middleton, that dream became reality, as her father, Michael Middleton, escorted her to meet Prince William. For Meghan Markle, however, things turned out different, for her father was unable to attend the ceremony due to his poor health, but luckily, there was a hero there to save the day. Meghan walked a part of St. George's Chapel's aisle alone and met half-way by Prince Charles, her would-be father-in-law then.