After an exciting Super Bowl LIV game on February 3, the Kansas City Chiefs emerged victorious with a 31-20 win against the San Francisco 49ers.
Now that the dust has settled and American football fans have gotten over their post-Super Bowl weekend hangover, let's see how much they have probably spent to celebrate the biggest sporting event in the United States.
Although it is a given that most of the fans had to allot a bulk of their budget on tickets for the game, there were also several things that they had to account for when they spent the weekend. This is especially costly for fans from the competing teams' respective hometowns since the game was held at the Hard Rock Stadium at the Miami Gardens in Florida.
They had to make sure they had enough to pay for transportation, accommodation, and food—not to mention the extra costs they had to pay to join in the revelry. Fans who watched the Super Bowl and stayed the weekend in Miami had to spend at least an estimated $6,000. And that's just for a low-budget trip.
The Tickets
Fans who watched the game had to shell out around $4,220 to a whopping $60,000 depending on the size of their group or which seats they chose. Unless you won a season ticket in the lottery, chances are you had to purchase tickets on the resale market.
According to StubHub, tickets as of the morning of January 27 were at an average of $7,000. In their platform, upper deck seats were selling at $4,220. Through NFL Ticket Exchange, top-level seats were available for $4,750. As the game day was approaching, resellers also started lowering their prices or risk holding on to useless tickets.
For fans who were willing to pay 60 grand for the Super Bowl experience availed of StubHub's all-inclusive ticket packages good for two people. This let ticket buyers see the action via a private box seating on the 35-yard line at the 72 Club living room section. The package also included privileges like field access after the game, a meet-and-greet opportunity with an athlete and a celebrity, and premium pre-game food and beverage service.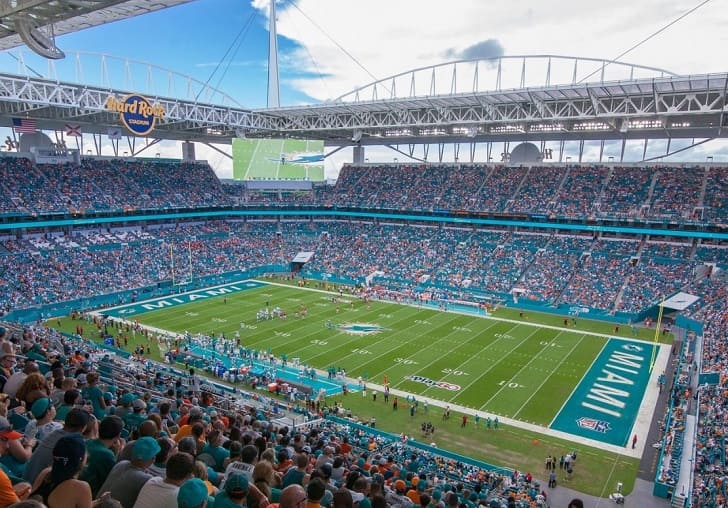 Transportation to Miami
From January 30 to February 3, roundtrip flight deals were at an average of $353. Those who departed from Kansas City to Miami International Airport had to spend $380 for round-trip airfare, while those from San Francisco shelled out $470.
Average airfares to Miami were at $282 from Chicago, $438 from Los Angeles, and $282 from New York City.
There were also Rally rideshare buses that transported fans from 25 cities in Florida. Passengers paid around $100 (from Fort Lauderdale) to $115 (from Fort Myers) for the ride.
For guests and fans to go around Miami, they had to take either public transit or ridesharing apps like Lyft or Uber. As per EstimateFares.com, a 17-mile Lyft ride from South Beach going to the stadium cost passengers $22. However, there was a cheaper alternative in the form of Miami's public transit system. The fare for the MetroBus is at $2.25. The MetroRail has a 25-mile scope that takes people from Kendall to South Miami, Coral Gables, and downtown Miami.
Accommodation in Miami
During the Super Bowl weekend, 2-star hotels in Miami offered rooms at $275 per night at an average. Three-star hotels were at $450 a night, while 4-star accommodations were at $880 per night.
For those who wanted to spend less on lodging, there were more than 300 vacation rentals or Airbnb around Miami. For $88 a night, guests were able to stay in a townhouse located 19 miles south of downtown Miami.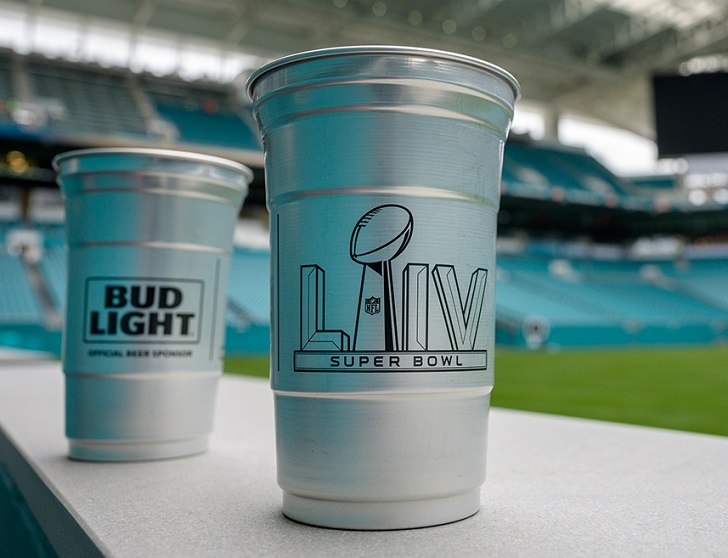 Food for the Weekend
Fans who watched the game had several food concessionaires to choose from at the Hard Rock Stadium, including David Chang's Fuku, Shula Burger, and Mojo Donuts. Inside the venue, Cheapism reported that fans had to pay $9.50 for a beer and $6.75 for a hot dog.
An inexpensive meal in Miami costs $15, a mid-range 3-course meal was at $65 for two people, and a cheap fast-food combo meal set them back $8. So for daily meals during the 4-day weekend, people had to spend around $50 to $100.
Extras
Unless they stayed cooped up in their hotel rooms or Airbnbs, fans who traveled to Miami had to pay extra for on-the-side entertainment and parties before the Super Bowl kickoff. Miami's most popular clubs and hotels flew in music celebrities for the parties they hosted.
Delano Beach Club had rapper Lil Wayne perform and sold tickets for the event for $75. Basketball Hall-of-Famer Shaquille O'Neal joined in the fun and organized Shaq's Fun House that featured performances from Pitbull, P. Diddy, and Diplo. Access to the party, food, and open bar was at $350