The most expensive home, as according to the Wall Street Journal, is now up for sale and could be yours for $29.5 million. As for the current owner, a couple of billionaires come to mind. But this one is currently being put for sale by none other than CEO of sportswear company Under Armor, Kevin Plank.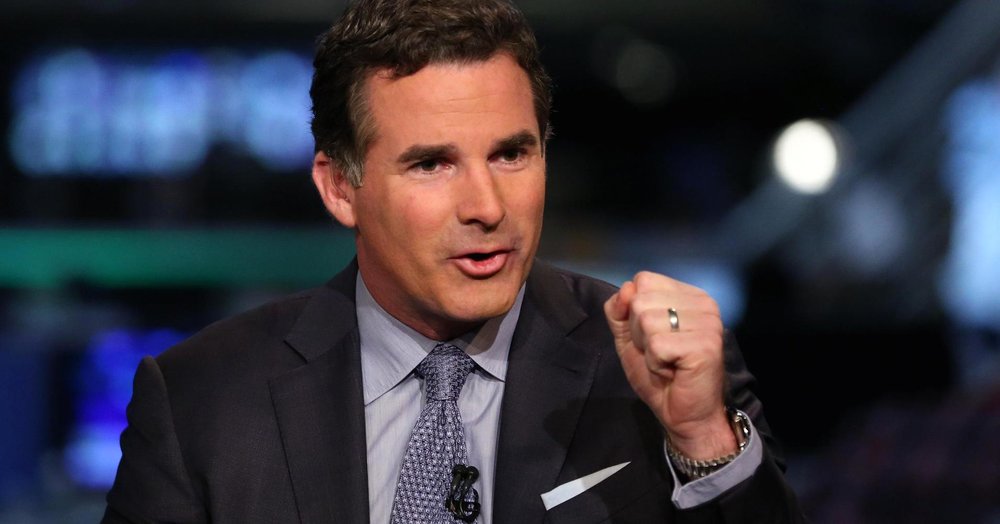 Under Armour CEO Kevin Plank is selling his mansion for three times the value he bought it for
He had originally made the Washington, DC mansion purchase in 2013, and decorated it to perfection. Despite it being the fairytale equivalent of houses, Plank wants to sell it as according to him, his family and he does not spend as much time there as they thought they would. Take that as a partial answer, and add the amount that he will be making a profit. Plank had purchased the property at $7.85 million, and is selling it for $29.5 million…talk about good investment!
The price of the 12,200 square foot mansion was confirmed by a representative of Plank Industries, the investment company of the CEO. The Georgetown house's listing price is currently the most expensive one listed in Washington DC. The good news is, it comes with quite some of the marvelous pieces that Plank's designers furnished it with.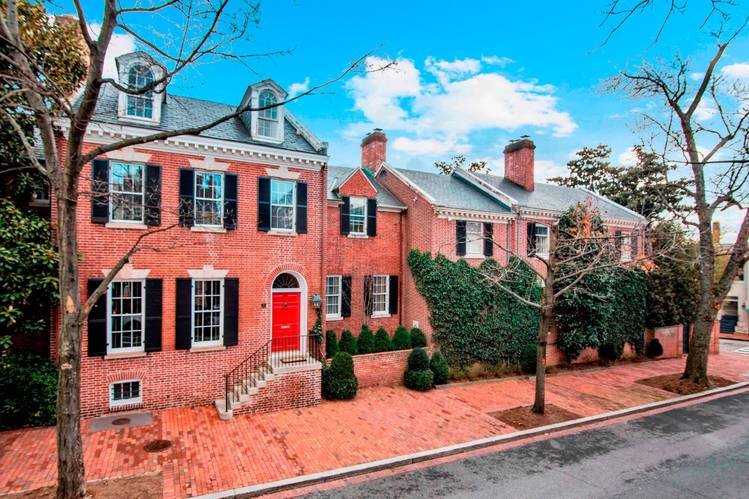 The Plank property is 200 years old, has seven bedrooms, a modern gym, and a huge car park
The home carries historical value, primarily because it was built as according to the Federal style over 200 years ago. The renovations it endured have turned it into one of the most modern properties, as due to the extensive level of detail as required by Plank. The property has some small green areas with trees and is built on one-third of an acre.
Tom Geddes, who is the CEO of Plank Industries, was instructed to make a statement in behalf of Plank, revealing information regarding the selling of the property. While it includes seven bedrooms, an entire separate gym building with very modern equipment, a guarded parking area with multiple car spaces, and a pool suitable for swimming laps, the Plank family had never intended of making the house their primary residence.
In fact, the focus was on hosting friends and family members as guests. After multiple renovations, the Planks came to the realization that the multi-million dollar house was totally not being utilized as often as they had initially intended or hoped. This may be due to their own agendas or the agendas of their friends and family, but subsequently, they came to the decision to sell the house.
The Plank family will no longer be in Washington, DC, but at their permanent residence just outside the place where the Under Armour Headquarters sit on, Baltimore.
The Georgetown property is listed under Jamie Peva of Washington Fine Properties, Cailin Monahan, and Nancy Taylor Bubes.
One does not need to even get inside the home to experience its glorious looks since the outside decorations themselves will do the trick. Built having used the classic bricks as a style, the house sits in the Georgetown part of DC and makes for a wonderful and picturesque walk by.
While the house underwent various renovations as requested by Plank himself, some are just a tad more luxurious than others. Such an addition which leaves us all with an open mouth is the 22 thousand pound marble staircase. Any Instagram influencer or blogger would die to be able to pose in those stairs.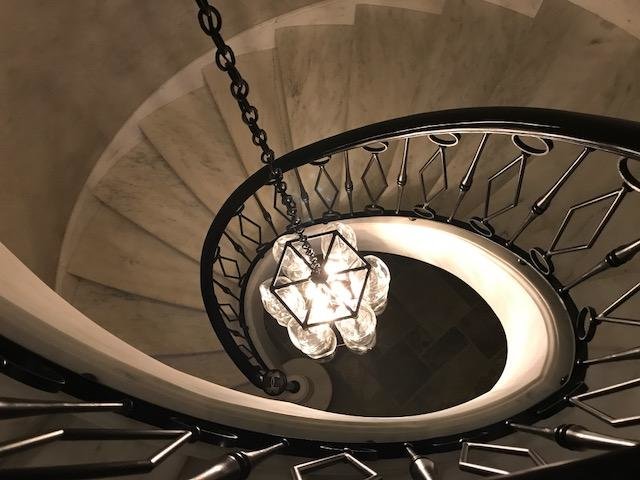 Plank redesigned this home with lavish structures like this winding stairs
We weren't kidding when we recognized the house's historical value. Not only is is over 200 years old, but the seven of its bedrooms are decorated as pertaining to famous political figures of the United States of America.
One of them, the master bedroom, is decorated with the portrait of America's first president and has subsequently been named The George Washington Suite. Who would not want to be a family friend of the Planks if that means we get to experience and stay in this glorious bedroom.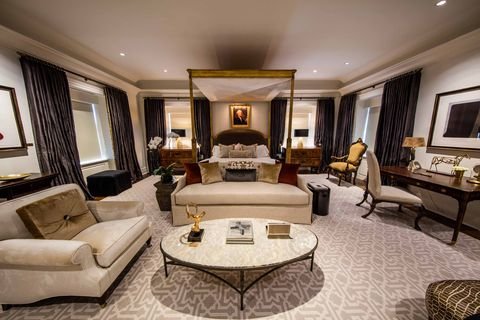 The master's bedroom pays homage to America's first president
As if this house could not get us any more envious, the listing companies have also advertised its basement area which is used for no other purpose than storing wine, and also whiskey. In addition, it was an entire room dedicated to fun. This entertainment room also sits on the basement of the house.
Meanwhile, Plank's success with his company is reaching the highest of peaks. His company, Under Armour, has most recently released two pairs of connected running shoes as part of their smart shoe line.