Kim Kardashian West and Kanye West may be one of Hollywood's most powerful couples. Love them or hate them, we can't deny the influence they have, especially now in the social media age. The woman alone has a skyrocketing following on Instagram, having 150 million stronghold followers, and 62 million on Twitter while her husband has 29.3 million.
When we first heard that Kim and Kanye were dating in 2012, some never expected them to last this long — considering the KKW mogul's record of filing a divorce only 72 days after her wedding with Kris Humphries.
But now they have a growing family with four kids and also a growing empire with the couple's different ventures such as the voluptuous star's beauty line and the rapper's fashion label.
Together, their combined net worth reached more than half-a-billion dollars, with the Grammy-award winning artist topping the list of highest-paid in hip-hop. Reports even say that in this year alone, the couple will earn more than $200 million.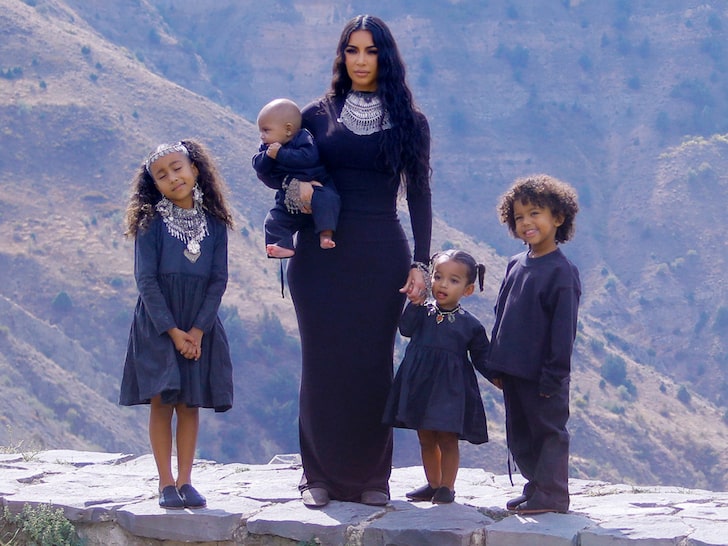 Held at Gunpoint
 With their high influence in pop culture, their every move — from the clothes they wear to what they are endorsing – is being closely monitored by fans, media, and even online brands. Just recently, many have noticed that Mrs. West has not been sporting her first engagement ring given to her by Ye.
Well, if you've been held at gunpoint, bonded, and gagged by duct tape, with the thieves taking $10 million worth of jewelry, you'd probably want to lessen your blings, and that's what the beauty maven did after what happened to her in Paris in October 2016.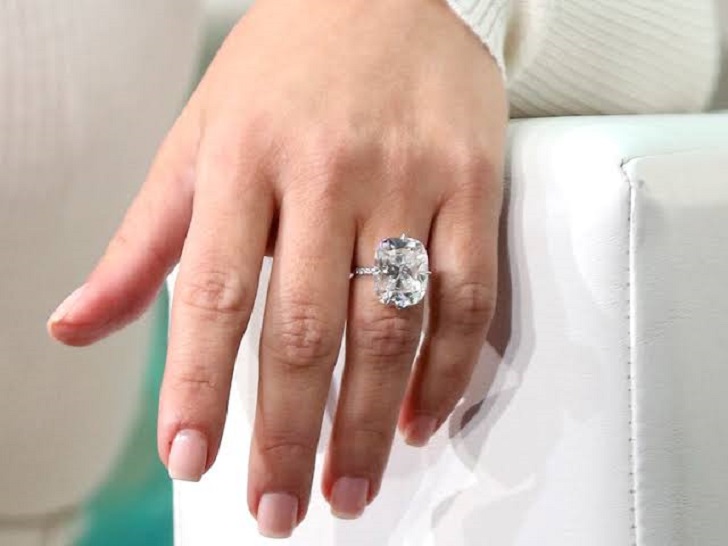 It was also reported that during the hold-up, Kim's second engagement ring – a 20-carat emerald-cut diamond ring – was also stolen. So now, the mother of four wears a minimalist gold band on her left ring finger.
We haven't seen the $2-million worth sparkler ever since, until the newest episode of Keeping Up With the Kardashians.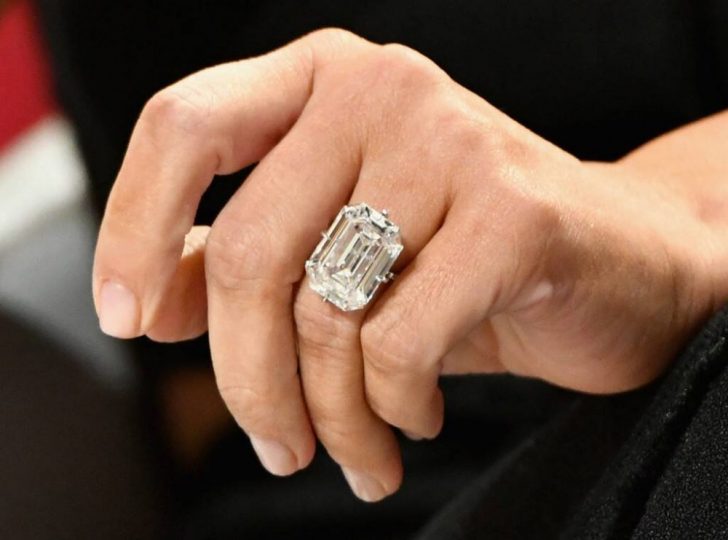 The cushion-cut engagement ring features a D flawless type 2A rock in a band, which gives off the impression that the stone was floating. You can't afford to miss it, actually you can't miss it, because of the humongous gem screaming opulence in the middle.
Adorable Reenactment
In this episode, Kim told the story behind this 15-carat cushion cut engagement ring to her son Saint as she prepared for the private and unfilmed renewal of vows between Kanye and her last May. As she showed the Lorraine Schwartz ring to their eldest son, the curious 3-year-old asked her what happened when his dad gave her the ring.
The multi-hyphenate celebrity lovingly recalled the night the This is Pablo rapper closed the AT&T Park, hired a live 50-person orchestra to play her favorite song from Lana del Rey, and proposed to her. But, of course, Kim did not dwell on the details. She then continued to explain what it means to be engaged to someone to her son.
The mother and son then proceeded to reenact this scene with Saint playing his father, charmingly asking his mom to marry him. Kim, obviously said yes to the young man, what an adorable moment!
Long History
If you have been following the Wests, you know that they have a long history together. In fact, in Kim's long-forgotten short stint in music, Kanye even made a cameo, and this was in 2010.
Fast forward to two years, Kim, fresh from break-up from her ex (but still legally married to him), started dating her long-time friend Kanye. In one interview, they admitted to liking each other even when they were still in their previous relationships but never had the proper timing to date.
They welcomed their first child, North in June 2013 and on the 33rd birthday of the reality TV star, Kanye popped the question. They had a beautiful wedding in Florence, Italy, in May 2014.