If you are like Cher Horowitz from Clueless, picky with where you put your feet on, or like Rachel Green from Friends who just can't resist a good shoe sale (regardless of her employment status), then you probably have an expensive and expansive shoe wardrobe that is coveted by anyone.
From the staple classic Louboutins to the timeless Manolos and Jimmy Choo, if it's a shoe designer, it might be in your collection.
As Nancy Sinatra's song goes, these boots (or shoes) are made for walking, but The Moon Star Shoes, which are the most expensive in the world, may just not be made for walking or strutting but also for breaking world records.
And, no, you might not want to put it off your feet because it is made with golds, diamonds, and a meteorite — just your basic ingredients to make the perfect shoes.
Burj Khalifa-inspired Heels
Cinderella's glass shoes and Dorothy's ruby shoes are nothing compared to these $20-million platform heels made by Italian shoemaker and designer Antonio Vietri.
No, it does not lead you to Prince Charming nor does it take you back home in three clicks, but it has a solid gold heel for starters, which has the Burj Khalifa, the highest structure on the world that is found in Dubai, UAE.
The tribute to the highest building continues on the vamp adorned by 30 carats of diamonds while the counter is embellished with a meteorite discovered in Argentina in 1576.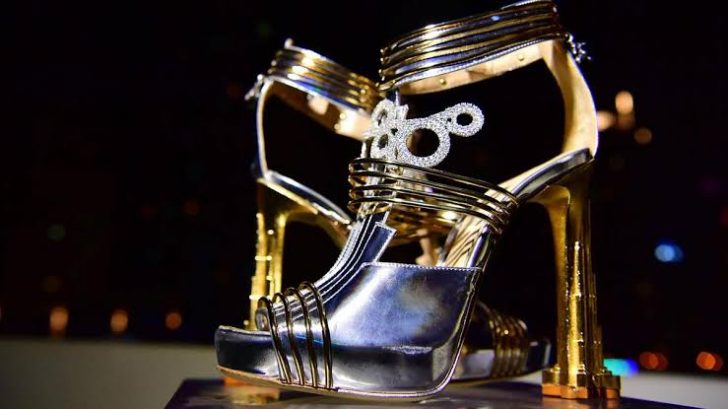 The said special stones might be fragments from Campo del Cielo, a cluster of iron meteorites that are around 4,200 to 4,700 years old, predating shoes or even the concept of it. This group of meteorites is reported to weigh 100 tonnes, the heaviest of its kind in the world — luckily, only two chunks of it were on the celebrated pair.
Golden Shoemaker
The gold-diamond-and-meteorite-decked shoes were aptly showcased in a yacht on the marina of the City of Gold as part of the MIDE or the Made in Italy, Designed in Emirates Fashion Week.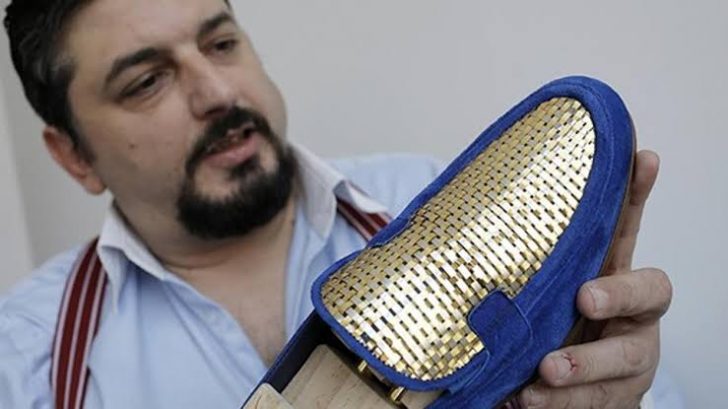 Antonio Vietri, who is also known to be the golden shoemaker, is famous for his outrageous and luxurious designs, making him a go-to footwear designer for the rich people in the Arab states.
In 2017, he even created the first 24-carat gold shoes. Part of the extravagance of these golden shoes was the delivery service — it is sent via a helicopter to those who purchased it.
Other Expensive Shoes
The Moon Star Shoes stomped on the previous record of Jada Dubai's The Passion Diamond Shoe that is worth $17 million.
The golden stilettos were made in collaboration with another UAE-based brand Passion Jewellers, which helped bejeweled this shoe with a set of tiny diamonds on the throat and a 15-carat diamond on each of its toe, totaling 238 diamonds decked on both shoes. The largest gems are said to have a grade D, meaning it is colorless, a rarity for the diamonds making it the highest grade in terms of color.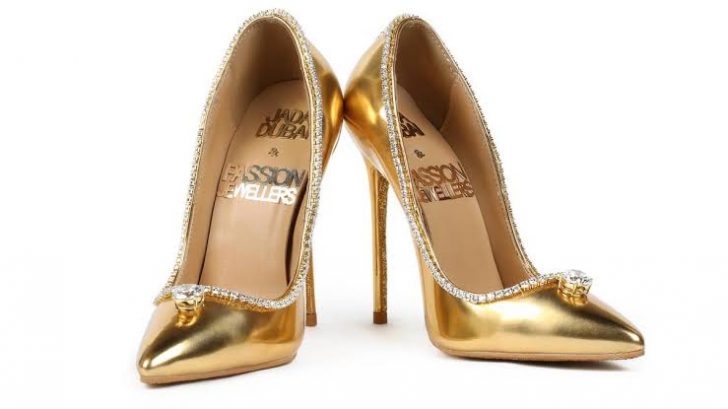 Debbie Wingham also created a $15.1-million pair, which was again unveiled in Dubai (where else?).
The stilettos were decorated with 1-carat blue diamonds and 3-carat pink diamonds. The soles, zipper, and the paint of these leather heels were also made of gold.